About us
The mission of the Czech EATRIS network (EATRIS-CZ) is to further develop a dynamic and collaborative environment that supports chemical, biomedical, and clinical research, and speed up its transfer into clinical practice. It connects and facilitates collaboration of top national research institutions and hospitals in the research partnership. EATRIS-CZ aids in the development of new knowledge and places the Czech Republic among nationally and internationally recognized centres of excellence in molecular and translational medicine directly linked to EATRIS and other major biomedical infrastructures.
On the top of more conventional research tools, EATRIS-CZ network offers unique infrastructure in several fields of expertise. Most prominently, HTS facilities with the capability of multiple modes of detection in BSL3 and BSL2+ environment, genomics and proteomics facilities equipped with all the necessary technology and knowledge to advance biomarker and drug discovery.
EATRIS-CZ boasts with a wide range of expertise in preclinical research employing radionuclides, including advanced multimodal imaging capabilities with various animal models available, licensed laboratories and medical radionuclides and tracers supplier. 
Of special interest to some could also be an access to chemical libraries, tissue samples, genetic material, genotypic and phenotypic data.
For more mature projects aiming for optimization of molecular structure of biologically active compounds or aiming to develop more appropriate formulations, EATRIS-CZ network can offer capacity of teams experienced in medicinal and polymer chemistry to aid them in increasing efficacy or improving drug delivery.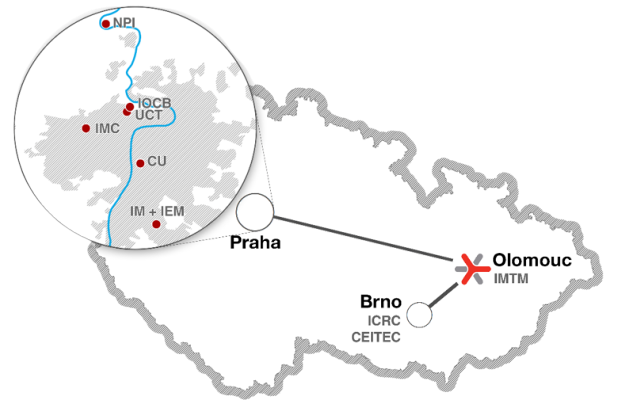 What is EATRIS?
Single point of access to the right expertise and facilities
Expedition of the development process
Access to large and diverse clinical patient cohorts

Translational medicine is the transformation of laboratory research outcomes into new ways to diagnose and treat patients to improve the health of millions of people worldwide. It takes promising biomedical innovations 'from bench to bedside' and bridges clinical needs from bedside to bench. European Advanced Translational Research Infrastructure in Medicine (EATRIS) provides a new development pathway, open to researchers and companies in need of support for advancing biomedical innovations. EATRIS comprises over 80 leading academic institutions across Europe, each renowned for its individual and high-end research facilities. Solution by EATRIS is to integrate academic translational research and medicine centers.
EATRIS combines centers of excellence by bringing them together, integrating and harmonizing them and coordinating the complementary activities of these centers and providing access to third parties to cutting edge technologies and the range of expertise embedded in academic institutes about molecular mechanisms capable of optimizing the R&D process, from discovery to the clinic. This may lead to an increase of the amount and quality of translational projects entering the R&D pipeline and being brought to the clinical phase The R&D pipeline in Europe will benefit greatly from this access. In doing so, Europe can regain some of the lost ground in global competitiveness within the life sciences domain, and at the same time tackle the pressing and relevant problems associated with major chronic diseases such as cancer, infectious diseases and neuro-psychiatric disorders